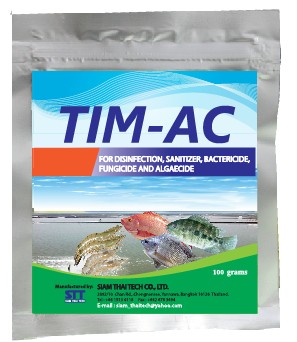 PRODUCT NAME : TIM-AC
For disinfection, sanitation bacteriocide, fungicide and algicide
Benefits :
Help to prevent and cure shrimp larvae diseases cause from bacteria, virus and fungi.
Immediate germicidal activity against gram positive and negative bacteria, algae and some viruses.
Effectively kill against bacteria, virus and fungi.
Application :
For Prevention : 20 g/40 m2
For Treatment : 80 g/42 m2
Caution & storage :
Keep in a cool, dry place, protect from moisture, sunlight and chemical.
Keep out of reach of children.
Packaging :
20 g, 50g, 100 g bag